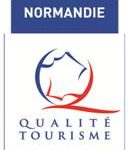 The campsite is always looking for the best way to satisfy its customers. This is why since 2016 it has met the requirements of the Normandy Quality Tourism label.
The label allows us to :
Welcome you properly in all circumstances.
Satisfy you with a service that complies with the commitments of the establishments awarded the label
Present you the products and tourist offer of Normandy.
The Chambers of Commerce and Industry (CCI) of Normandy and the Normandy Region have been supporting, since 2001, Normandie Qualité Tourisme, recognised by the State as part of the Plan Qualité Tourisme™.
Establishments voluntarily join this programme in order to optimise their services and be identified by consumers. They receive individual support from their CCI.
The Normandy Regional Tourism Committee, which is responsible for the brand, coordinates the programme and organises, together with the Departmental Tourism Committees and the Tourist Offices, the promotion of establishments that have received the label.
The establishments have to comply with the legal obligations of their profession, particularly in terms of hygiene, safety and accessibility for disabled people.
Establishments are awarded the label after obtaining a minimum score of 85% following a mystery audit carried out by an independent firm (renewal within a maximum of five years with an exhaustive mid-term audit by the quality advisor who accompanies them throughout their quality process).
The establishments are subject to permanent control by means of the satisfaction forms available on this website.
In the Manche department, the label includes :
41 hotels
38 restaurants
19 campsites
1 bed and breakfast
28 places of interest
11 leisure activities
12 shops